The 1st National Conference on Electronics, Electrical Engineering, Telecommunications, and Computer Vision (C3ETCV'23) will be held at the Faculty of Technology, of the University M'Hamed Bougara of Boumerdes, Algeria, on November 06th, 2023.

The Conference aims to present new advances and research results in the fields of Electronics engineering and its applications. The Conference is expected to provide researchers, engineers, and scientists with the opportunity to interact and present their latest advanced research. Authors are invited to contribute to the conference by submitting articles that report on their latest research results, innovative projects, or insightful surveying works. Topics of interest will fall under one or more of the conference tracks, but are not limited to:

Track 1: Electronics and Electrical Engineering.

Embedded & IoT systems
Automation, Robotics & Control
Circuit applications and simulations
Machine learning in embedded systems
Automotive Systems
Electrical machines
Electric transmission and distribution
Energy production
Medical electronics
Optic electronics
Power electronics
Instrumentation systems
Electronic Measurements
Autonomous Systems
Calibration and Measurement
Track 2: Telecommunications
Wireless Communications
Ad-hoc, Vehicular, Sensor and Mesh Networks
Flying Ad-hoc Networks
Cognitive Radio Networks
Wireless Multimedia Networks
Smart grid, Smart City, Small Cell Networks
Social Networks
Green Wireless Networks
5G Communication Networks
Performance and QoS
Internet of Things and Machine-to-Machine Communications
Wireless Network Security and Privacy
Track 3: Computer Vision
Artificial Intelligence
Signal and image processing
Pattern Recognition
Video Processing
Tele-Medicine
E-Health Applications and Systems
Biometrics
Medical image analysis
Speech Processing
Audio and Acoustic Signal
Bioinformatics and Instrumentation
Stereovision and Virtual Reality
Image Enhancement, Denoising, and Segmentation
Indexing and Retrieval
Compression, Coding, and Watermarking
Machine and deep learning
IMPORTANTS DATES
Submission Deadline: September 30, 2023
Camera Ready:October 25, 2023
Notification of Acceptance: October 15,2023
Conference Date: November 06, 2023
Contact:
Mail Address:
c3etcv2023@univ-boumerdes.dz
Phone:
05 50 52 87 43
For more information contact us at:
c3etcv2023@univ-boumerdes.dz
• Pièces jointes:
Plan d'accés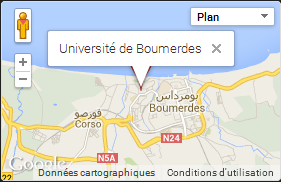 Suivez-nous
Newsletter
Lettre d'Information de l'Université de Boumerdes